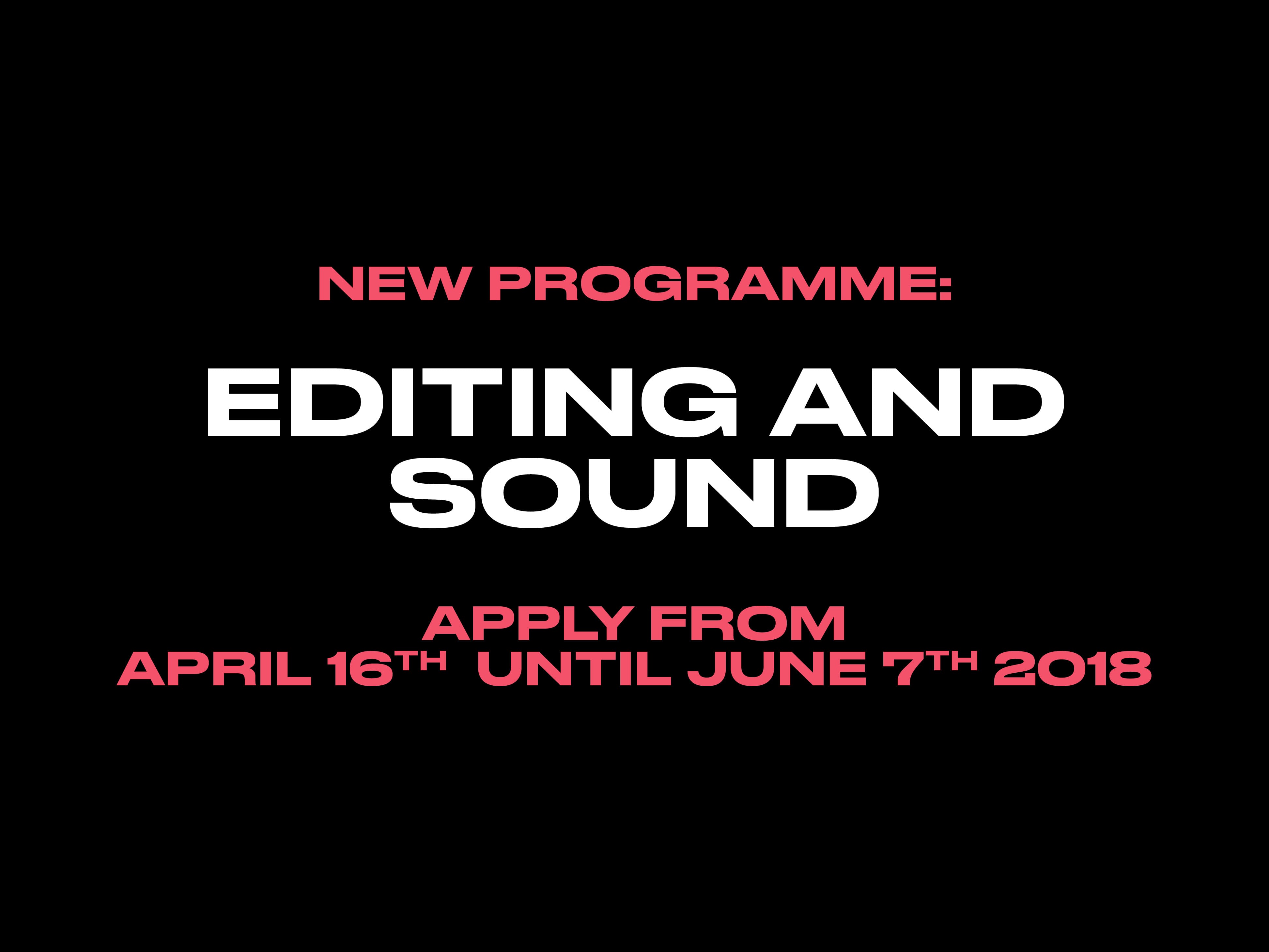 This com­ing Sep­tem­ber, the DFFB will offer six stu­dents the oppor­tu­ni­ty to study edit­ing and sound on a full-time basis. This pro­gramme, titled Editing/​Sound, joins the exist­ing four DFFB pro­grammes: Direct­ing, Pro­duc­ing, Cin­e­matog­ra­phy, and Screen­writ­ing.
The Appli­ca­tion Tasks Editing/​Sound 2018/​2019 are the first steps for apply­ing. Our appli­ca­tion plat­form opens 22nd May 2018. Appli­ca­tions must be sub­mit­ted by 7 June 2018. The entrance exam­i­na­tion will take place in Berlin dur­ing the week of 9 July–13 July 2018.
The first year of stud­ies is the same for all DFFB stu­dents: the cur­ricu­lum is gen­er­al­ist. Dur­ing this time, the the­o­ret­i­cal and prac­ti­cal foun­da­tions are laid for future col­lab­o­ra­tions between the dif­fer­ent dis­ci­plines. Through­out the course of stud­ies, the bound­aries between these dis­ci­plines remain open – stu­dents become well-round­ed film­mak­ers. They devel­op a holis­tic under­stand­ing of cin­e­ma and gain spe­cialised knowl­edge rel­e­vant to their indi­vid­ual dis­ci­plines. Under­stand­ing all stages of film­mak­ing is an essen­tial part of the DFFB's teach­ing phi­los­o­phy. Through work­ing togeth­er on film projects, stu­dents test film­mak­ing the­o­ries to see what works best for them.
Editing/​sound stu­dents will ben­e­fit from this struc­ture. From the onset of their stud­ies and dur­ing the course of each project in which they par­tic­i­pate, they are con­sid­ered equal part­ners to their direct­ing, pro­duc­ing, cin­e­matog­ra­phy, and screen­writ­ing peers. Editing/​sound stu­dents con­tribute to sto­ry devel­op­ment, under­stand the cin­e­mat­ic ele­ments of dra­matur­gy, and are able to assess the qual­i­ty of an actor's per­for­mance. Fur­ther­more, they have knowl­edge in the fields of music, sound design, art his­to­ry, and, above all, film edit­ing.
Through film edit­ing and sound design sem­i­nars, editing/​sound stu­dents acquire film­mak­ing tools and meth­ods for their own prac­tice. Work­ing on col­lab­o­ra­tive film projects is at the core of the DFFB's teach­ing phi­los­o­phy. For editing/​sound stu­dents, the cut­ting room is the ulti­mate class­room – it is where con­ver­sa­tions with peers and teach­ing staff take place. Through the process of edit­ing, the cin­e­mat­ic pos­si­bil­i­ties of image and sound are expe­ri­enced and exam­ined. In the spir­it of Pudowkin: "The devel­op­ment of mon­tage — this is the path that will secure the future of cin­e­ma."