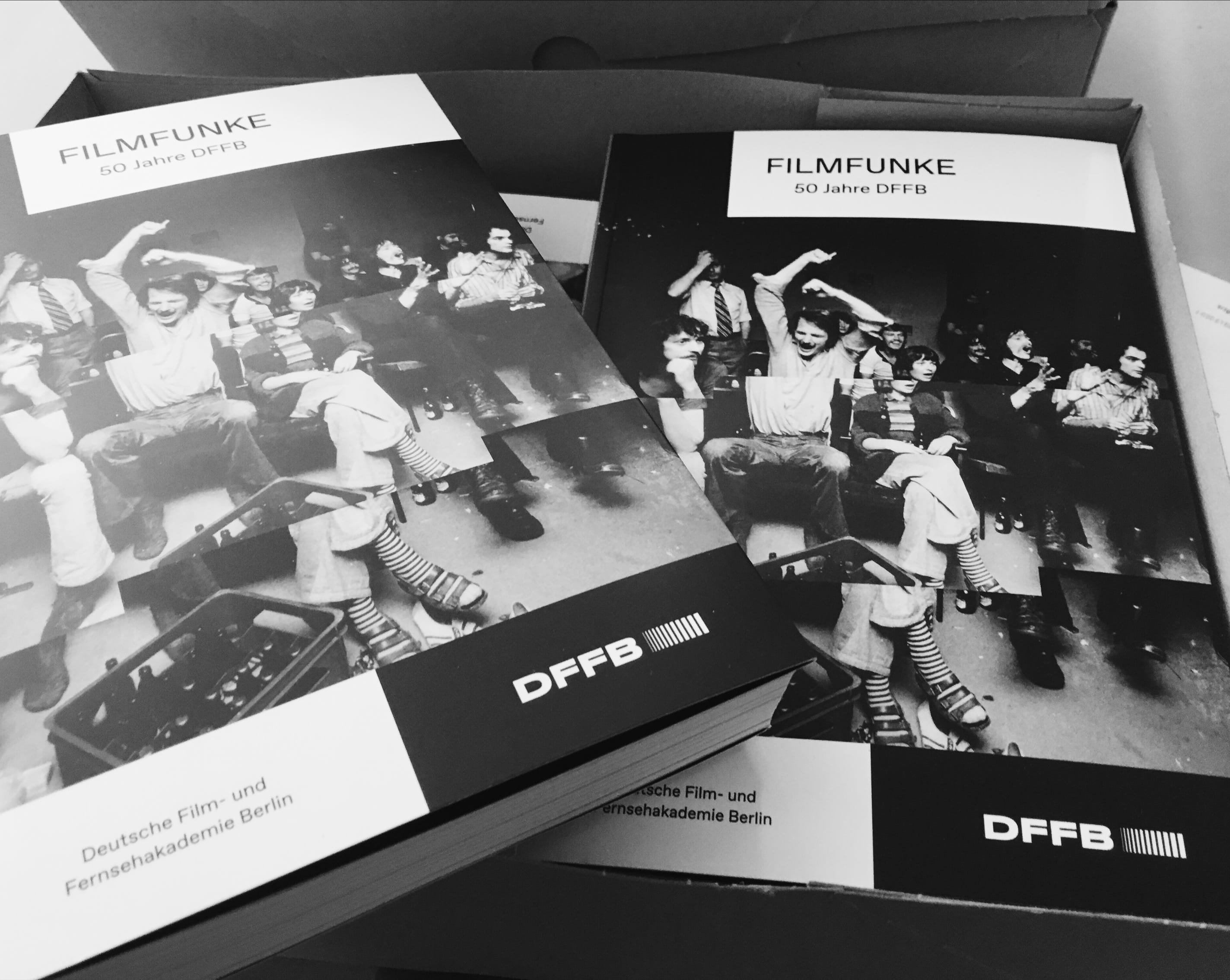 FILMSPARKS – 50 Years DFFB
FILMSPARKS – 50 Years DFFB, written in both German and English, asks fifty filmmakers about the moment in their lives in which a creative awakening – a spark – took place through their encounters with people, films or art. This book was written on the occasion of the fiftieth anniversary of the Deutschen Film- und Fernsehakademie Berlin (DFFB) and is published by the DFFB.
Price:  17,95 € incl. VAT
Ordering the Book via E-Mail
please send an email to with FILMFUNKE in the subject line. Please indicate the number of books desired and your mailing address. After effectuating the payment, the film book will be shipped. There is a shipping cost of 1,95 € per book within Germany.*
*Thank you for understanding that we will work on international requests individually.
Buying the Book directly from the DFFB
Please visit the DFFB at the Filmhaus in Potsdamer Platz, 9th floor, Monday–Friday, 10 am–12 pm.
Availability in Book Stores
in Berlin
in Cologne
About the Book
"The collected texts range from contemplations on formative seminars and films, to revelations about the beginnings of a filmmakers journey, to the experience of birthing an individual creative vision, which cannot be taught. This film book reflects upon the tension sparked between the act of teaching and the act of resistance towards being taught – a tension that is at the heart of the DFFB's history. Contributors include Angela Schanelec, Ulrich Seidl, Helke Sander, Lav Diaz, Christian Petzold, Cristina Nord, Einar Schleef, Hartmut Bitomsky, Ulrike Ottinger, and Harun Farocki."
Nicolas Wackerbarth and Marcus Seibert (editors)
50 Years DFFB
The DFFB celebrated its fiftieth birthday in September 2016. In 2016 and 2017, we presented a variety of events such as the DFFB Film Festival in the Eiszeit Kino, the major retrospective of DFFB films at the Arsenal cinema, the DFFB sessions, the symposium The Shock of the Real, and the urban cinema series Back on Location. All these events focused on DFFB filmmakers and showcased their work. Now, at the end of this period of celebration, we have published FILMSPARKS – 50 Years DFFB, a book, written in both German and English, in which filmmakers, practitioners, theorists, DFFB alumni and friends share their thoughts on filmmaking and reflect on the history of the DFFB.
FILMSPARKS – 50 Years DFFB was made possible through the kind financial support of the Stiftung Deutsche Klassenlotterie Berlin as well as the through the above-mentioned events.