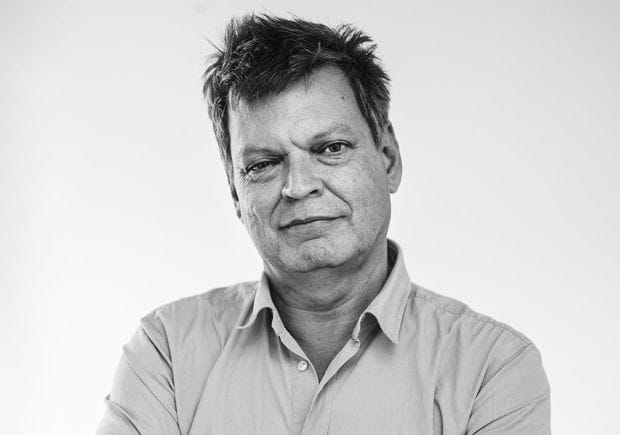 – We sat down with Bri­tish film pro­du­cer Ben Gib­son to chat about his expe­ri­ence so far as head of the Ger­man Film and Tele­vi­si­on Aca­de­my Ber­lin (DFFB). Having taken office in 2015, Bri­tish film pro­du­cer Ben Gib­son is the first non-Ger­man direc­tor of the acclai­med Ger­man Film and Tele­vi­si­on Aca­de­my Ber­lin (DFFB). We had a chan­ce to chat with him about his expe­ri­ence so far, the chal­lenges he has faced and the launch of NEXT WAVE, an inter­na­tio­nal trai­ning pro­gram­me.
Cin­eu­ro­pa: What is your expe­ri­ence of being the head of DFFB for the last three years, and what chal­lenges have the­re been?
Ben Gib­son: It has been a busy three years, with lively inter­nal dis­cus­sion about impro­ve­ments that will sup­port this crea­ti­ve com­mu­ni­ty and add to its work, and it's also been a very suc­cessful peri­od for DFFB film­ma­kers. We also had four fea­ture-length gra­dua­ti­on films, with the sup­port of rbb and ZDF, at the Ber­li­na­le this last year. Our main chall­enge has be
en to add strands of work to an insti­tu­ti­on that has built up a rich cul­tu­re incre­men­tal­ly, over many years. DFFB is so spe­cial part­ly becau­se it just doesn't do that aspi­ra­tio­nal, silo-ori­en­ta­ted trai­ning for an ima­gi­na­ry film fac­to­ry. It brings tog­e­ther hard-working, bra­ve types who want to beco­me artis­a­nal film­ma­kers with a deep know­ledge of the who­le machi­ne, and to deba­te why they make films and how they con­tri­bu­te to our world, for their who­le care­ers. That's exci­ting.
Is any­thing chan­ging?
We are beco­ming more inter­na­tio­na­list – in terms of tea­ching, part­ner­ships and stu­dents – while still remai­ning a Ger­man Aka­de­mie; we are adding to the tea­ching struc­tu­re to incor­po­ra­te even more craft; we've ope­ned a stu­dy stream for editing and sound; we're inte­gra­ting the screen­wri­ters, who now make films in the first, gene­ra­list year; we have initia­ti­ves about other con­sti­tuen­ci­es and Ber­lin (the Ber­lin Film Net­work), as well as the Cen­tral Euro­pean Fea­ture Pro­ject with Lodz and FAMU, and an Inter­na­tio­nal Pro­du­cers' Pro­gram­me; we are "plat­form-neu­tral", with more web series, seri­al dra­mas and expan­ded sto­rytel­ling; and we're start­ing work on plans for a bet­ter home, in the old air­port at Tem­pel­hof.
You are laun­ching NEXT WAVE, an inten­si­ve trai­ning pro­gram­me focu­sed on film mar­kets. Why was it nee­ded?
NEXT WAVE might look like an "unnece
ssa­ry addi­ti­on" to some peo­p­le in the­se mar­kets: it's pro­fes­sio­nal-level trai­ning for peo­p­le who want to con­tri­bu­te in sales, dis­tri­bu­ti­on, mar­ke­ting, exhi­bi­ti­on, pro­gramming and new rou­tes to audi­en­ces, on all plat­forms. But NEXT WAVE is more than just a cour­se. First, we want to bring ever­yo­ne try­ing to bring films and audi­en­ces tog­e­ther into one room, even though the busi­ness keeps them apart. Second, this is a pro­gram­me that chal­lenges the par­ti­ci­pan­ts to con­s­truct new busi­ness models, tho­se nee­ded for a new gene­ra­ti­on of view­er­ship and cine­phi­lia, on new plat­forms. On the simp­lest level, how do ana­lo­gue film dis­tri­bu­ti­on pat­terns meet new, digi­tal­ly gathe­red com­mu­ni­ties? But we're asking big­ger ques­ti­ons: what will the new cine­phi­lia be about, who will iden­ti­fy with it, and why? The par­ti­ci­pan­ts will devo­te two weeks a month, for nine months, to joint stu­dy and rese­arch.
It's start­ing in Octo­ber; what are your expec­ta­ti­ons for the pro­gram­me, and who might the "right" par­ti­ci­pan­ts for it be?
There's real­ly no "ide­al" par­ti­ci­pant. One thing that has had a big impact on me is having been an exhi­bi­tor and a dis­tri­bu­tor, and then beco­ming a pro­du­cer. Now, in the USA, that's the gener
al model, but in Euro­pe, so many pro­du­cers are total­ly out­side of the mar­ket com­mu­ni­ty, loo­king at it pas­si­ve­ly as a "ser­vice". So, first of all, the pro­du­cers who are serious about under­stan­ding the who­le of their busi­ness must come and con­tri­bu­te. The new pro­gramm­ers, cura­tors, peo­p­le scou­ting films at fes­ti­vals for small dis­tri­bu­tors or other fes­ti­vals, peo­p­le who dream of set­ting up spe­cia­list sales com­pa­nies, peo­p­le who want to work in mar­ke­ting all kinds of IP in ways that bring tog­e­ther artist and audi­ence pro­per­ly – all of the­se peo­p­le should come.
In the first year [of the initi­al three-year cycle], we need to find out how best to ser­ve as an R&D acti­vi­ty in Euro­pean cine­ma, asking our part­ners and sup­port­ers for inte­res­t­ing pro­blems to sol­ve. And we need to see how par­ti­ci­pan­ts can work on their own inte­rests and busi­nesses while also con­tri­bu­ting to the sum of know­ledge we'll bring tog­e­ther at the final col­lo­qui­um in June.
DFFB is not alo­ne in NEXT WAVE; who are your part­ners, and what is their role in the trai­ning pro­gram­me?
Yes, we're working with La Fémis in Paris, with the Danish Natio­nal School in Copen­ha­gen and with FAMU in Pra­gue. The par­ti­ci­pan­ts in NEXT WAVE – which is an EU-fun­ded MEDIA trai­ning pro­gram­me, like our Seri­al Eyes and UpGrade pro­jects have been – will be young pro­fes­sio­nals see­king fur­ther trai­ning. The­se schools are com­mit­ted to this area, and will host tea­ching and lear­ning acti­vi­ties, recrui­ting local pro
fes­sio­nals. They'll also con­tri­bu­te to an aca­de­mic panel sup­port­ing cour­se direc­tor Lys­ann Win­disch. Many other insti­tu­ti­ons and busi­nesses, from Euro­pa Cine­mas and Le Pac­te to Mubi and The Co-pro­duc­tion Office, will be con­tri­bu­ting ide­as, ques­ti­ons and men­tor­ship, coming with us on the jour­ney.
DFFB has been known for its more auteur-dri­ven pro­fi­le; do you think that the launch of an inter­na­tio­nal mar­ket-ori­en­ta­ted pro­gram­me will alter its cha­rac­ter?
I'm not sure that "mar­ket-ori­en­ta­ted" has a useful mea­ning here. DFFB isn't inte­res­ted in gene­ra­ting stan­dard pro­ducts, and it doesn't belie­ve in stan­dard audi­en­ces. We make films for other peo­p­le, like all of the film­ma­kers we respect. The "auteur" repres­ents two ide­as for me here: both free­dom of expres­si­on and sin­gu­lar style; and the mar­ke­ting of bril­li­ant ensem­bles and work­shops of excel­lent inde­pen­dent cine­ma, by using only one name for the team – that of the wri­ter-direc­tor. That's cal­led the "talent fran­chise", and it's a vital part of the Euro­pean film busi­ness. NEXT WAVE fits in very well with DFFB, a school that is con­sis­t­ent­ly cap­tu­ring real audi­en­ces for real film­ma­king.